France, Cote d'Azur, Caen
"Walk around the city Festival, October 2012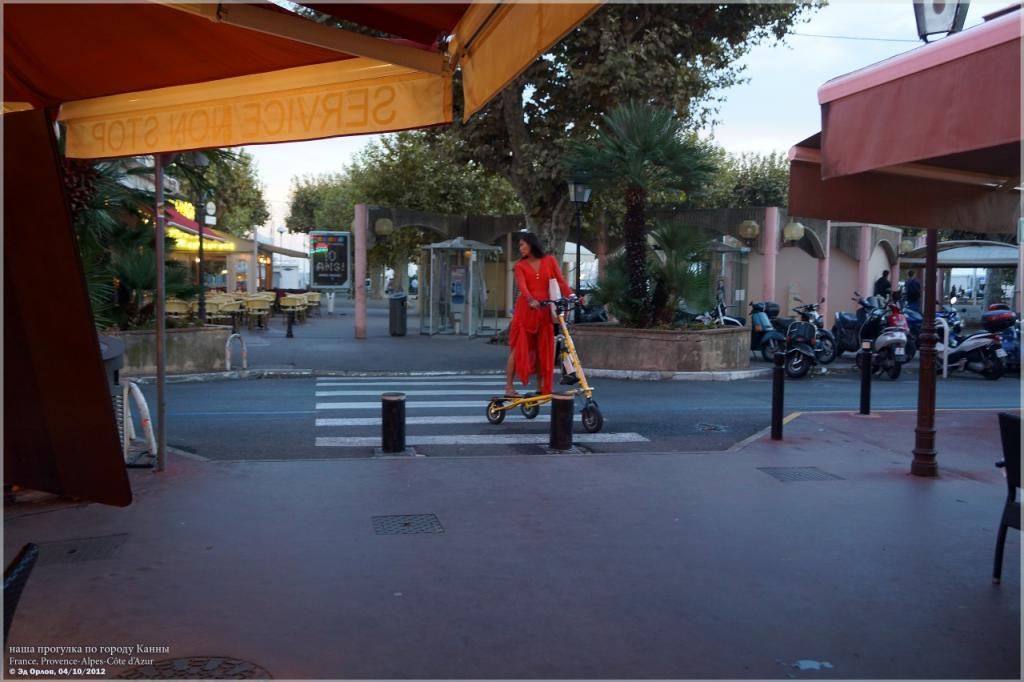 .. The second half of our trip - Cote d'Azur Cannes 2012 ..
Cannes - a city in the south of France with a population of 70,000 inhabitants, is one of the most popular and well-known resorts of the Côte d'Azur. The city founded by the Romans in 42 BC. e .. For centuries it remained a small fishing village in the Provence and did not think about fame until the XIX century. Russian PEOPLE discovered Cannes in 1879, when the city came Empress Maria Alexandrovna, wife of Alexander II. The city stretches for 9 km from quarter to Bocca rocks Fourcade. Center of Cannes - Antibes street, alley and Liberty Croisette. Cannes is especially known for passing there every year the Cannes Film Festival and the International Advertising Festival "Cannes Lions". Have you been to Cannes, I first plunged back 11 years ago :)
The entire trip from Villefranche-sur-Mer in Cannes by train we took 45 minutes. Convenient, fast and cheap, you go along the coast in a comfortable train with kondishinami. Voila. 1. w / w station of Cannes 2. go out on the street 3. Parkin at Station 4. Station building itself. Recalls Kursk? :)) 5. PRIVOKZALNAYA streets of Cannes 6. as long as this and that, come local lunch - well, went a bite in the center of the cafe 7. Fish :) 8. Russian church in Cannes 9. schedule :) 10. Residential villa is not near the sea 11. Roundabout 12. tourist mini-bass in the city 13. air temperature in the afternoon, early October in Cannes 14. shopping street 15. towards the sea :) 16. later we again ate at another cafe Cannes :) 17. at the Palais des Festivals 18. the palace 19. ya pleased at Palais des Festivals in Cannes, 2012 Hurrah! 20. advertising a new action movie on Soviet themes :)) 21. casino near 22.
Zeitung
on the very steps of the palace :)23. George Lucas, 2002 24. Sly's foot 25. Cameron Diaz ;)) 26. 27. 28. Vetrishche on the shore was a specific! 29. Palm trees bent! 30. one of their own (private) beaches at 31. walk along the same waterfront .. 32. La Croisette .. 33. 34. 35. sea, the sea - Lazurschina! 36.
Zeitung
;)) 3
7. and this is a public (free to the public) beach town of Cannes 38. 39.
Zeitung
against the Croisette 40. go to the port city of 41. port, yachts, Cannes :) 42. grew dark, it was time to return to our town of Villefranche-sur-Mer 43. in the train 44. 45.