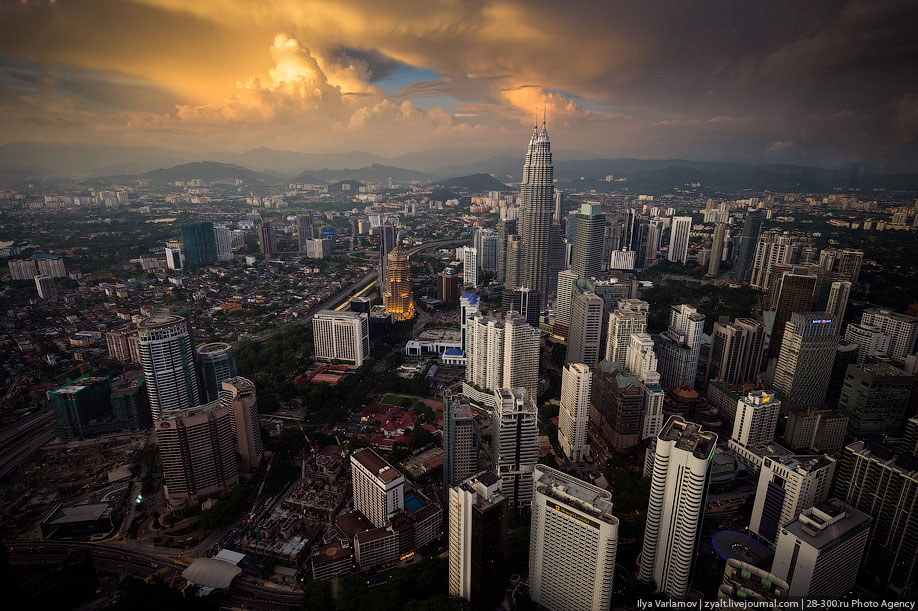 After the publication of the first post of Kaula Lumpur, many readers rightly indignant.
"Elijah, what happened to you? Where did your reports in the clean streets, skyscrapers, parks and neat? We have not signed tourist guide: If tomorrow you will not show us the real Kuala Lupmur, feed you to the crocodiles!"
Criticism of an entirely fair.
Petronas Towers, and parks, and you look it up yourself.
So on the second day I went searching for places where no tourist has gone before.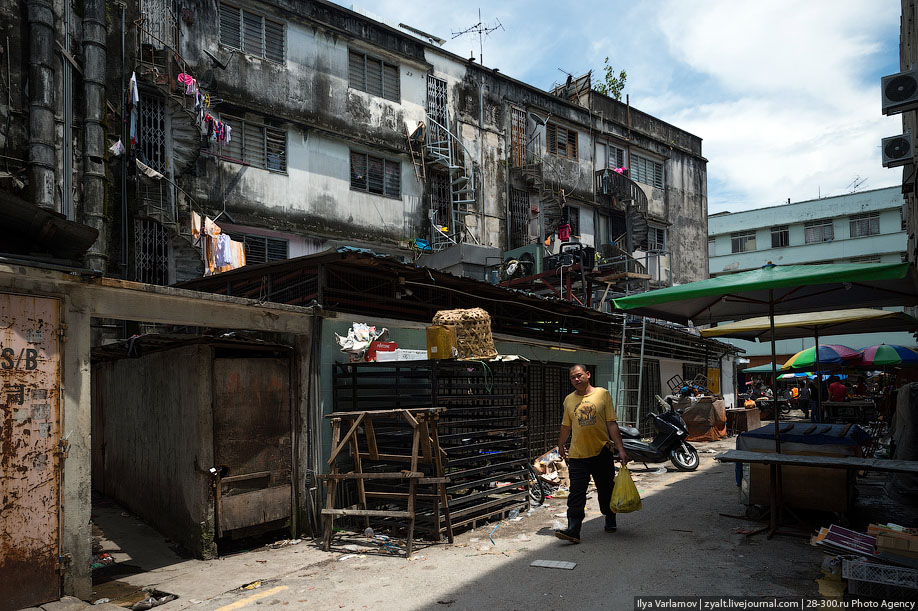 But let's start with the beautiful.
I accidentally came across a tourist guide, where I read: "The new government city of Putrajaya is striking in its beauty. It is situated at a distance of 30km from Kuala Lumpur and was built to show the" species "of Malaysia for the future. Mixture of architectural styles of any surprise here designer, because in the construction were used the most incredible ideas of the world's leading architects! "
Of course, I could not miss this morning and headed for Putrajaya.
As expected, a mixture of architectural styles really surprised me.
So many of the architectural collection in one place is difficult to collect.
It's such a bad exhibition of architecture, urban reserve of errors and bad taste.
Almost all the new cities alike.
They are empty, equally inconvenient to live in them to be uncomfortable and impossible to walk.
Why is a city, if it can not walk?
Build from scratch can not be a good city.
This can be seen in examples of Astana, Brazil, Canberra, Islamabad and other cities.
Putrajaya is successfully entered in the list of urban failure.
Let's see what happened.
01.
First, the road is going to some chaos.
Here's a look at how the streets are paved.
There is no separation of the road from the pedestrian zone.
A couple of times I almost fell under the wheels of the car.
One must be very careful.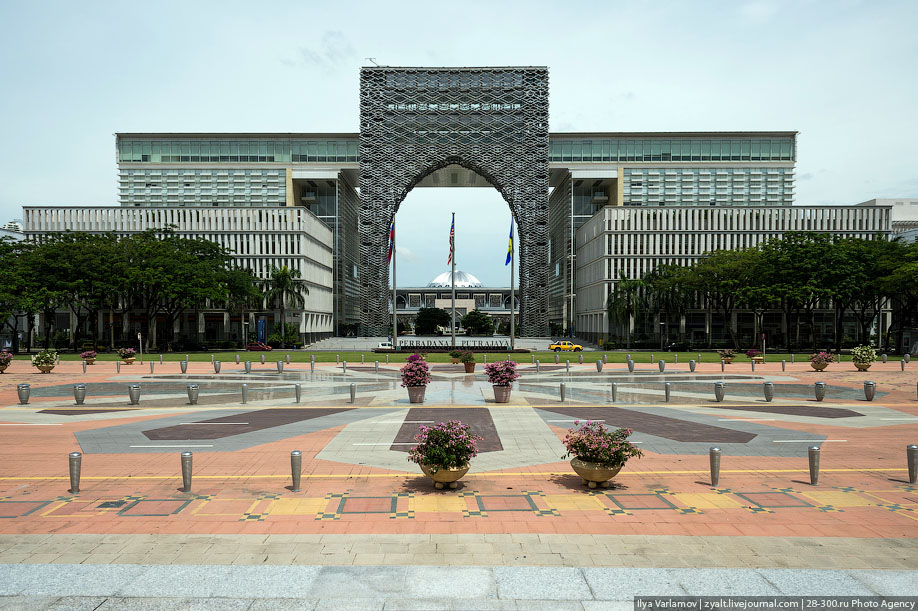 02.
The pedestrian zone is boring and dull.
There are no benches, no trees.
No desire to walk in a street there.
As can be seen on the street is not a single person.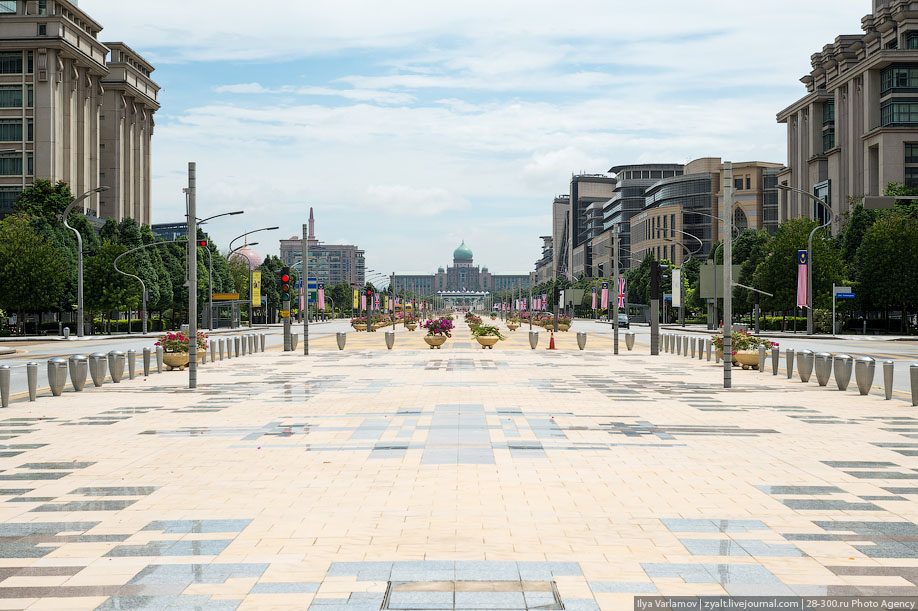 03.
Br-rr-rr ...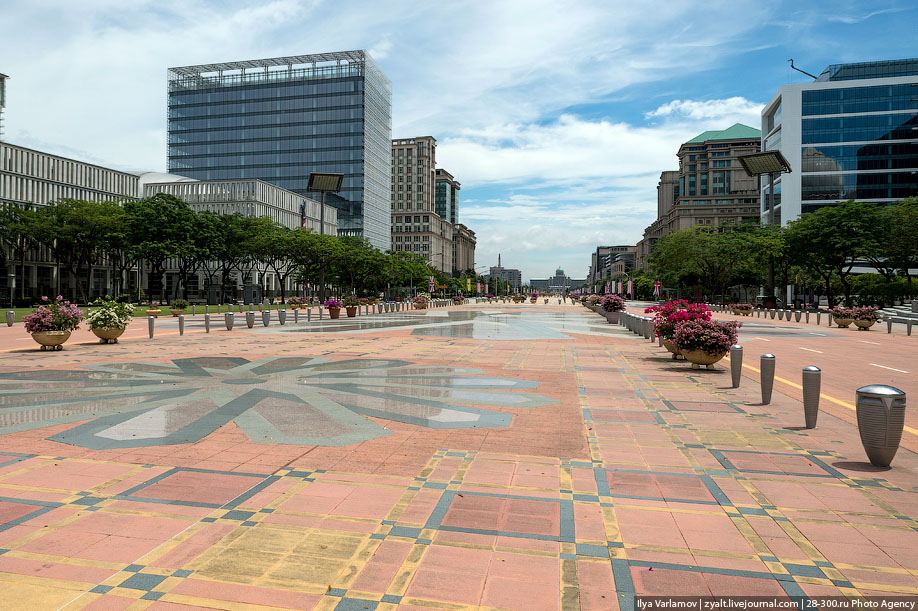 04.
Instead of making the normal avenues, the designers have planted shrubs and trees, sidewalks.
As a result, you can only walk along the edge of the wide sidewalk.
In Malaysia, year-round heat.
To move around the streets tree-lined boulevards are needed.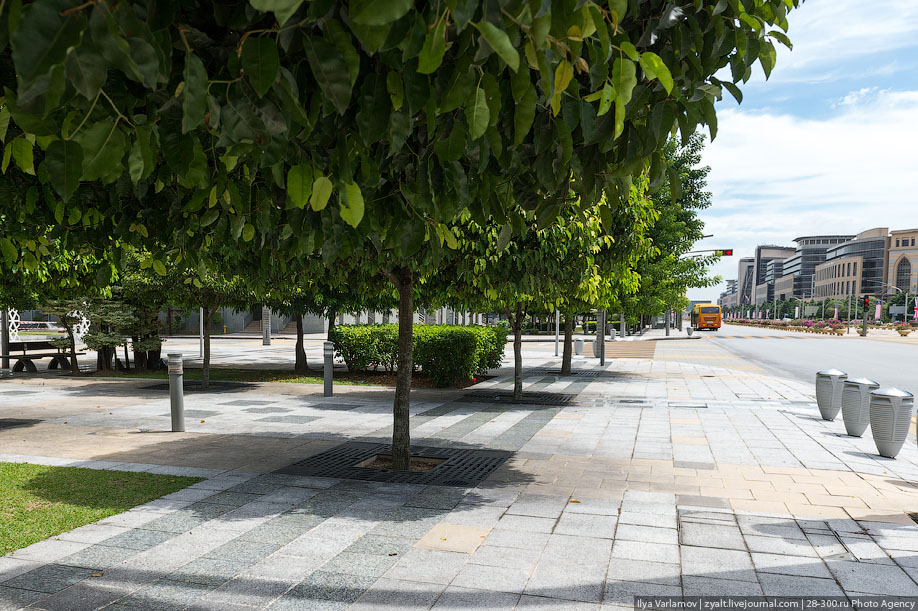 05.
Architecture.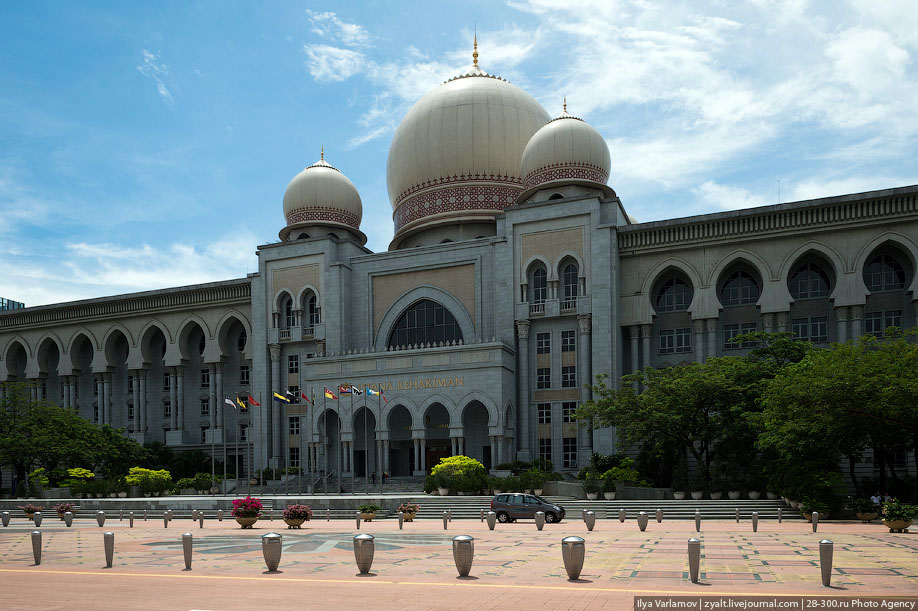 06.
Almost all the buildings - faceless glass from a computer game.
I do not know what to put here your hand, "the world's leading architects."
Lanterns on the shape of a dog scatting.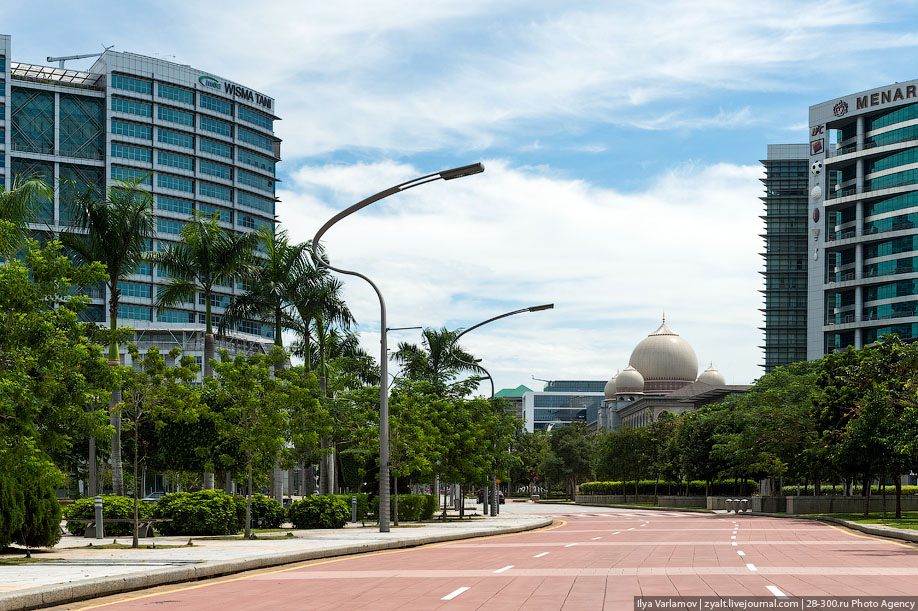 07.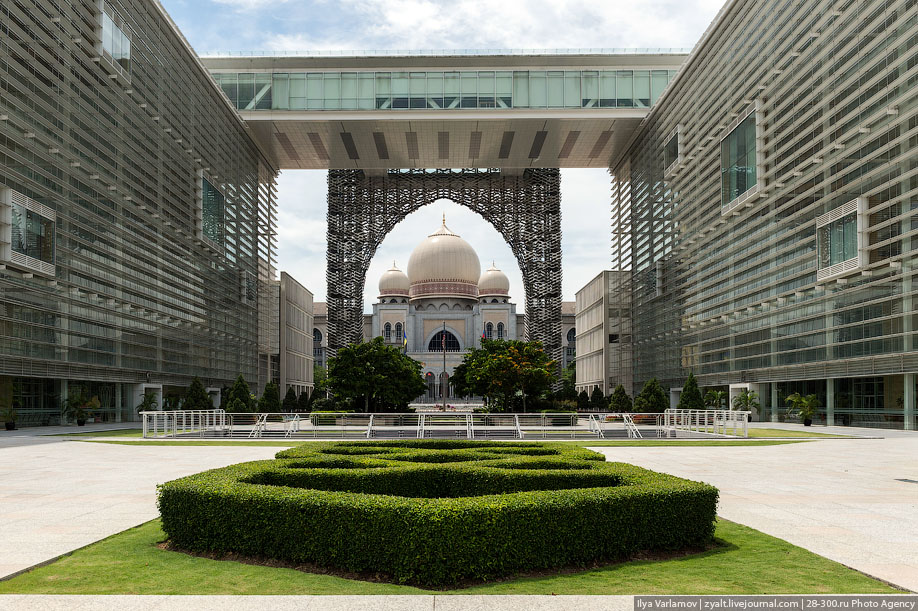 08.
The only good building.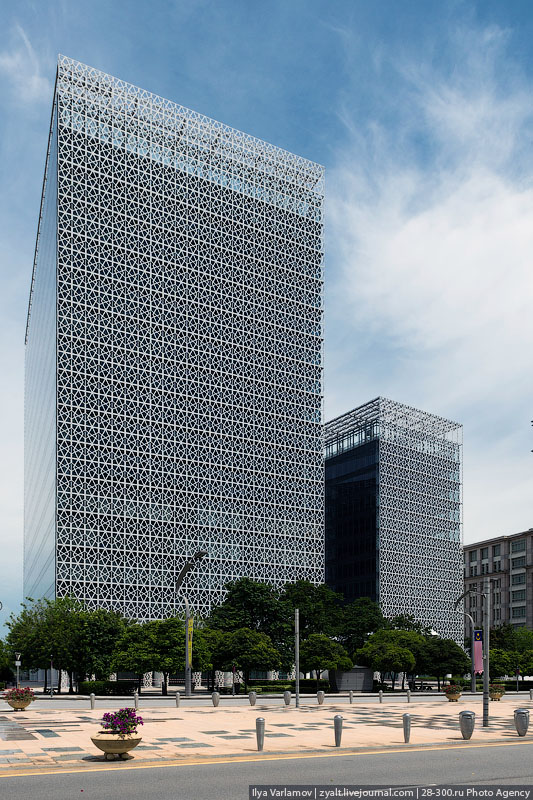 09.
Simple and tasteful.
All other buildings stand side by side and envy.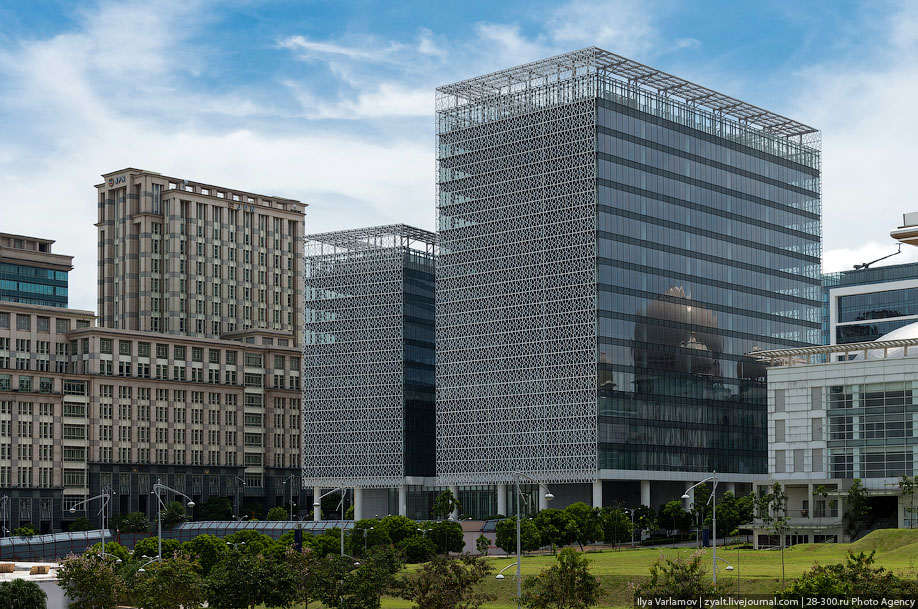 10.
The residence of the Prime Minister of Malaysia.
If you remove the dome - will Office Savings Bank.
They also love to put the nasty green box.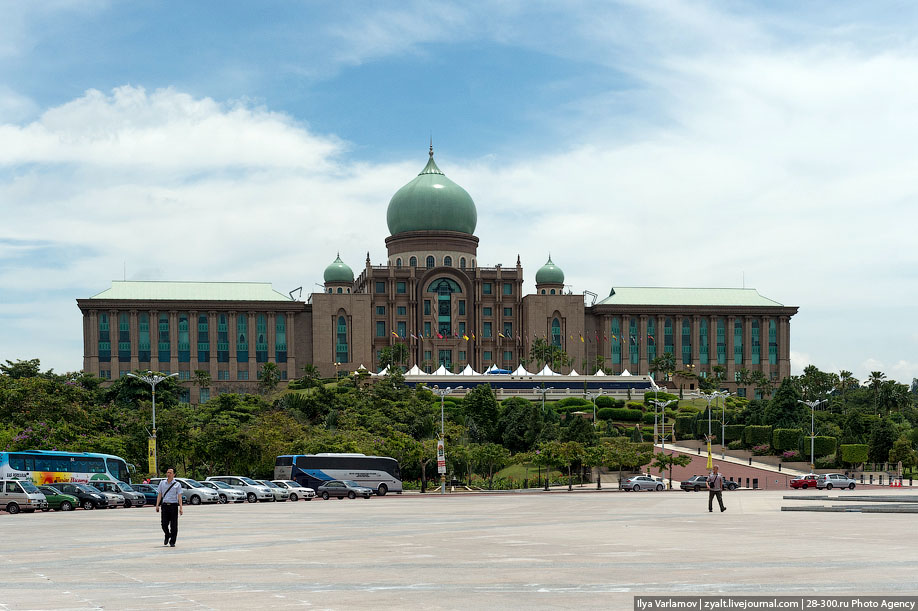 11.
And this is the main mosque.
I've been to many mosques, and I can say this - the ugly.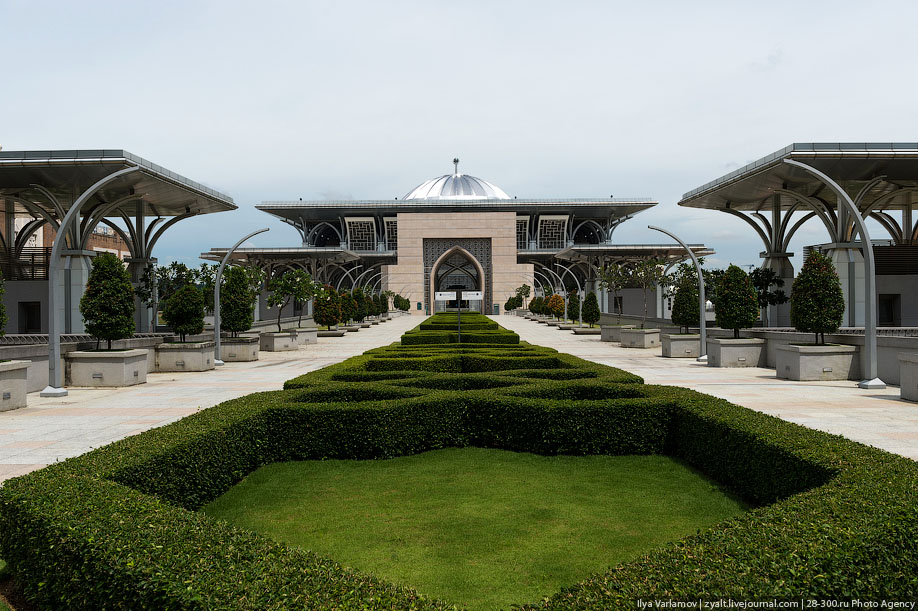 12.
Inside, it resembles a shopping mall.
Decorating with cheap paneling, disregard for detail.
Could there be a mosque?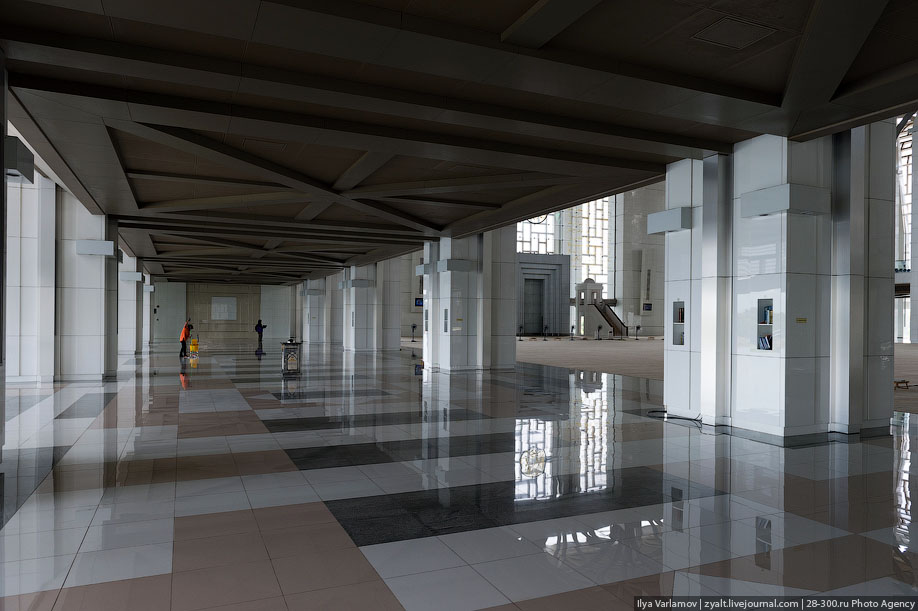 13.
Interior ...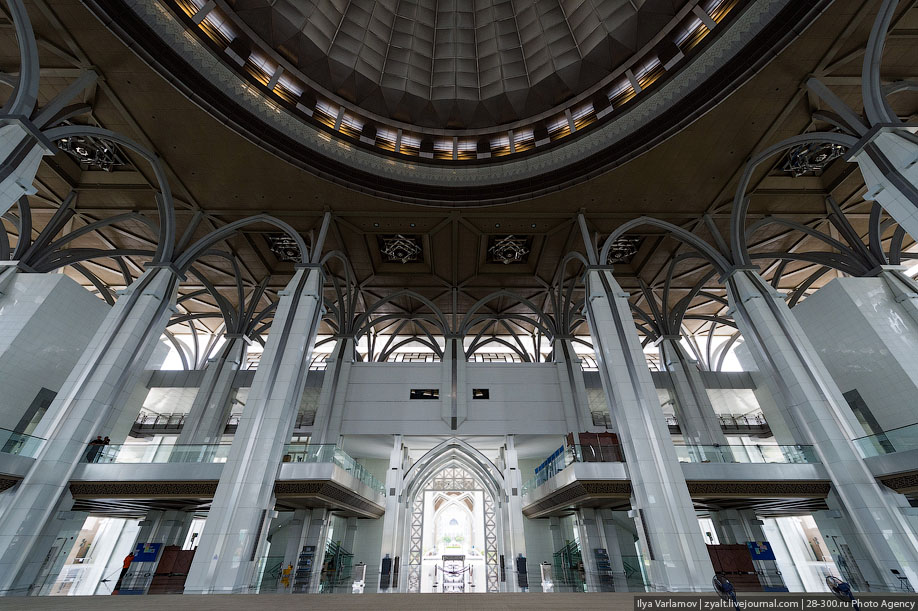 14.
The second mosque is made ​​better, although she, too far from the same mosque of Sheikh Zayed Road ( http://zyalt.livejournal.com/324245.ht ML ) at Abu Dhabi.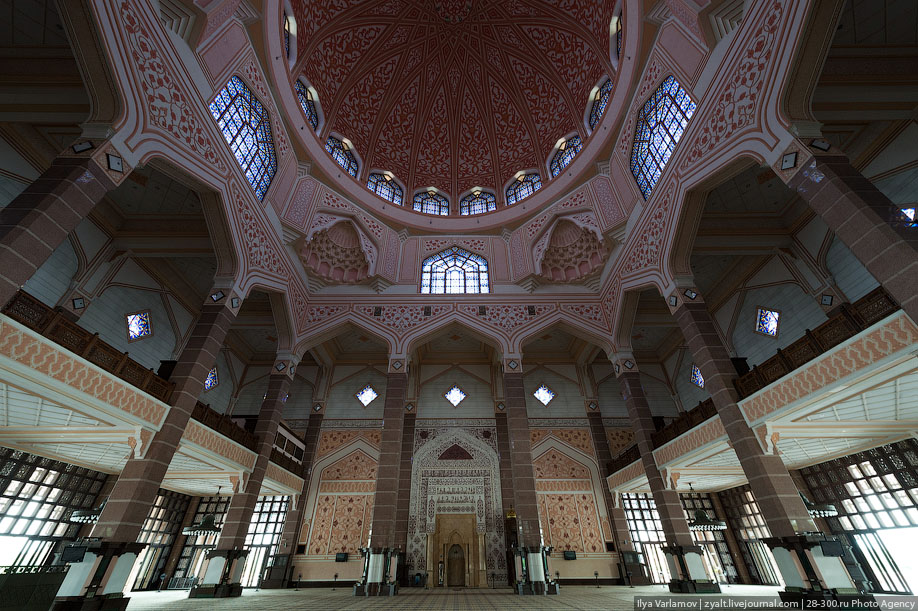 15.
Pedestrian crossing paved plitochki.
That is correct.
Covering a pedestrian crossing should be different from the main road surfacing.
Then it will be better visible to drivers and pedestrians more pleasant to walk on the tile than on the asphalt with paint.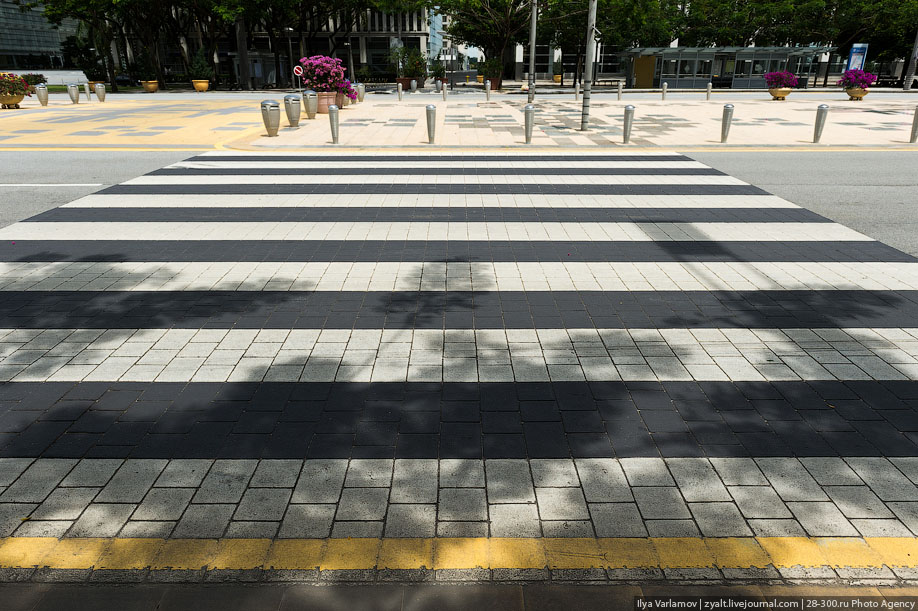 16.
In the most transition reigns some information chaos.
Why are there only different coatings - is unclear.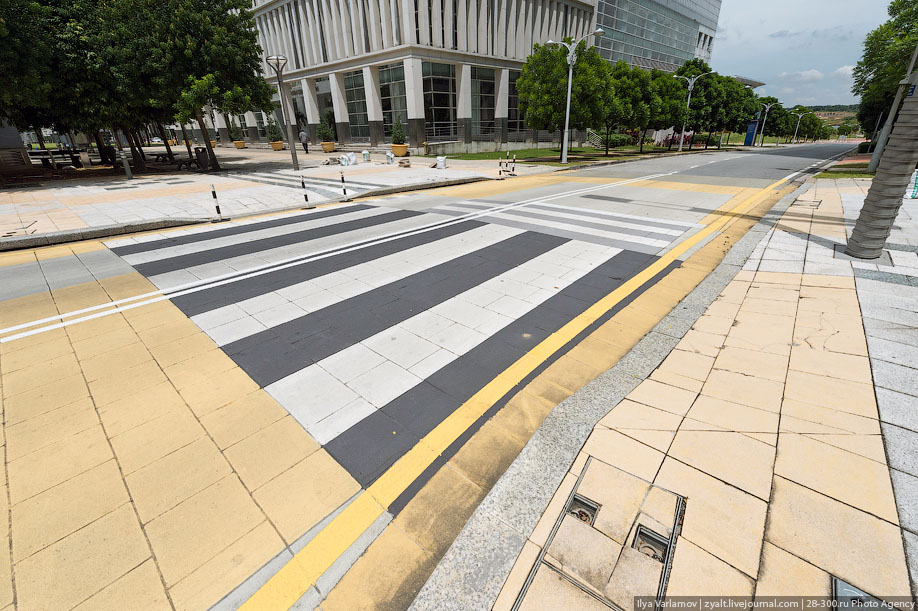 17.
Another transition.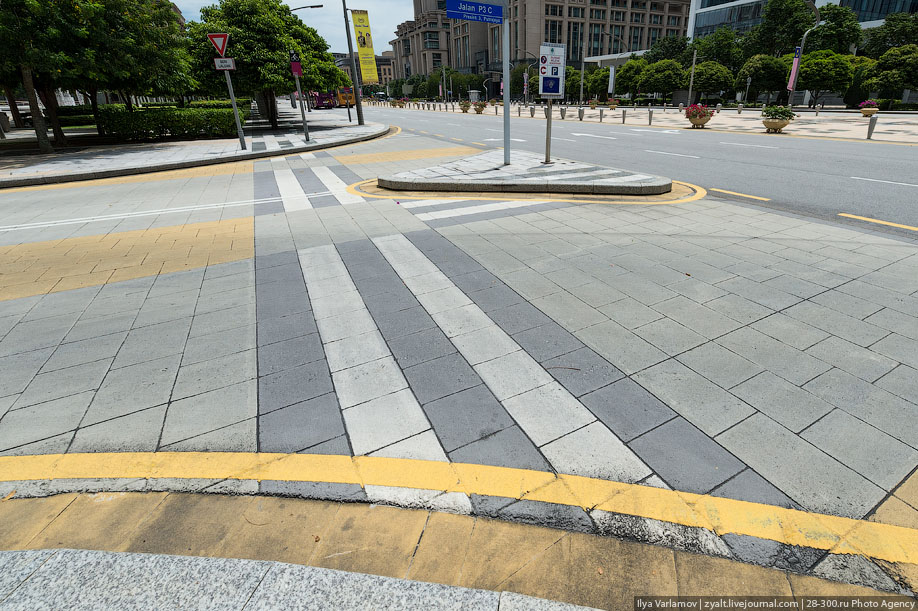 18.
By the way, notice how organized storm sewer.
All lattices are built under the border.
Very cool.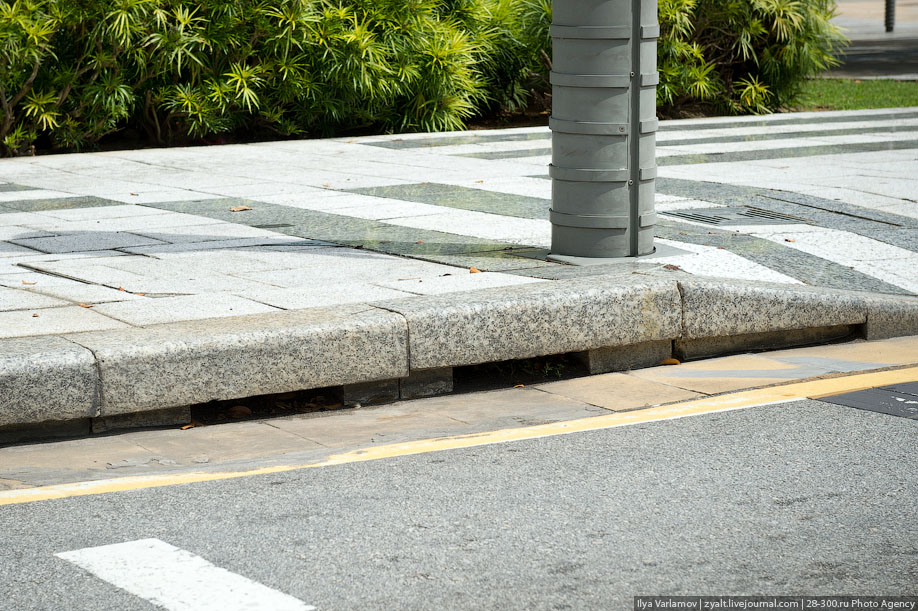 19.
The streets began to appear elektrozapravki.
First of all they needed to charge motorcycles and scooters with electric motors.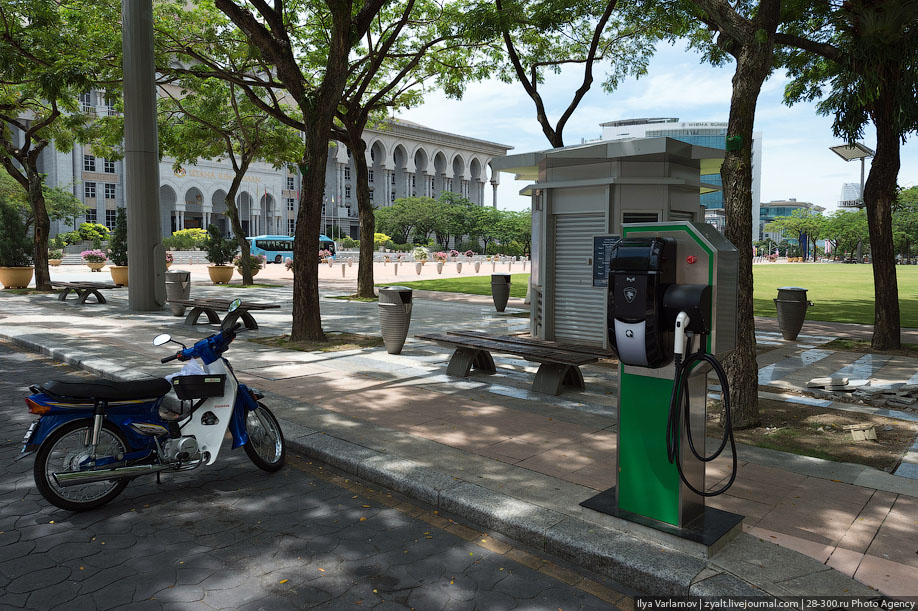 It's time to go back to KL
20.
Toll road.
Travel is about 1 rubles per kilometer.
At some points the road fare collection are every 10 km, because different sections of the road are owned by different companies.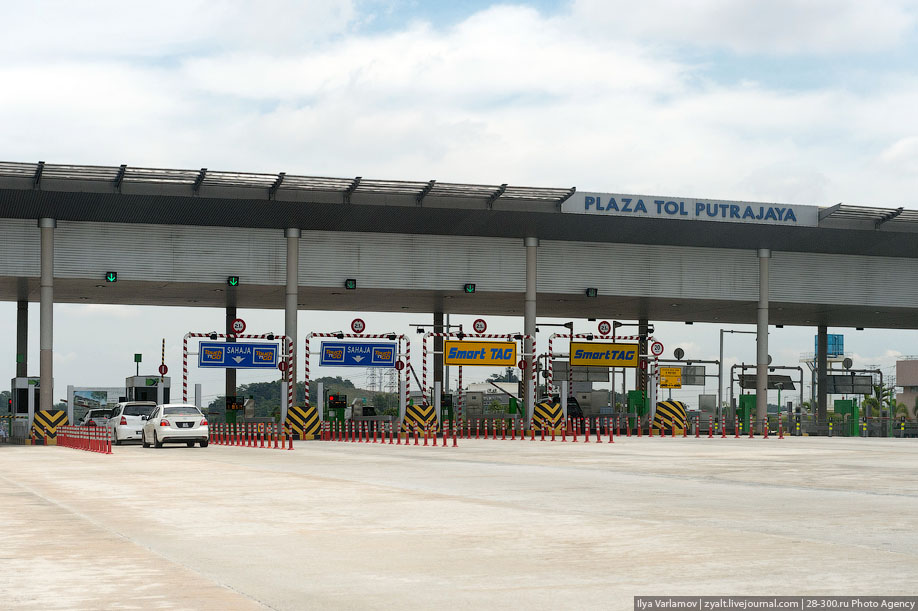 21.
Typically, underground parking costs 40 rubles per hour.
But there is a tariff "Early bird".
If you come to the parking lot from 6 am to 7 am, you can stand all day for only 80 rubles.
It is convenient for the office of the plankton.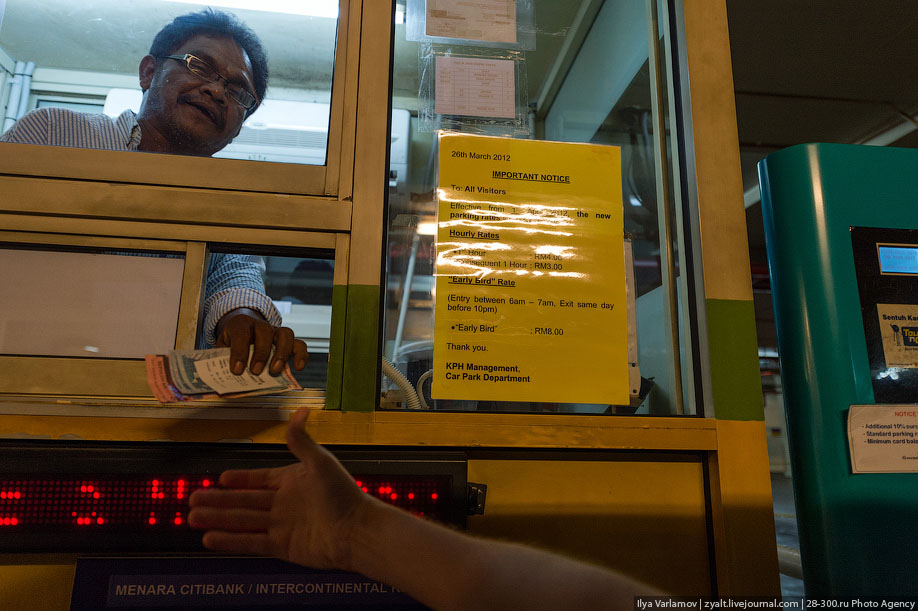 22.
Now for the fine.
This is a brothel.
By chance I saw the building of the former hotel and it seemed to me an interesting ...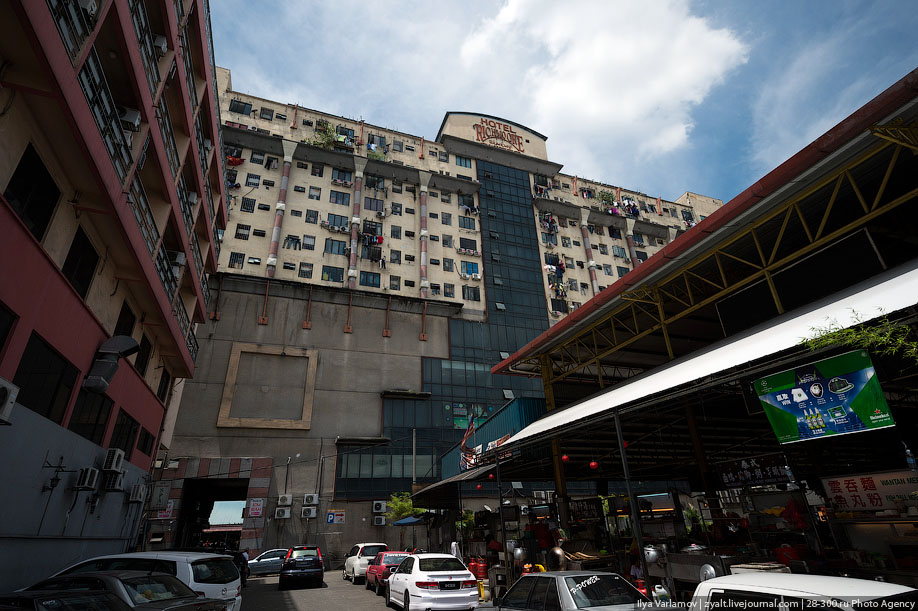 23.
At the entrance immediately clear that this is a den.
Subdued light, a bunch of obscure people, very dirty and wet ...
Security immediately noticed my camera ...
Protection of many.
Mordovorot with the radio says that if I'm here to shoot, I cut off his head.
No freedom of photography.
I had to shoot in secret.
Climb to the second floor, there are dozens of tables.
Prostitutes immediately notice a potential customer, and are beginning to offer themselves.
Reach the stage is not so simple.
Then you sit in this gadyushnike and wait.
The waitress dirty smelly cloth wipes the table, chasing flies and bring beer for 150 rubles.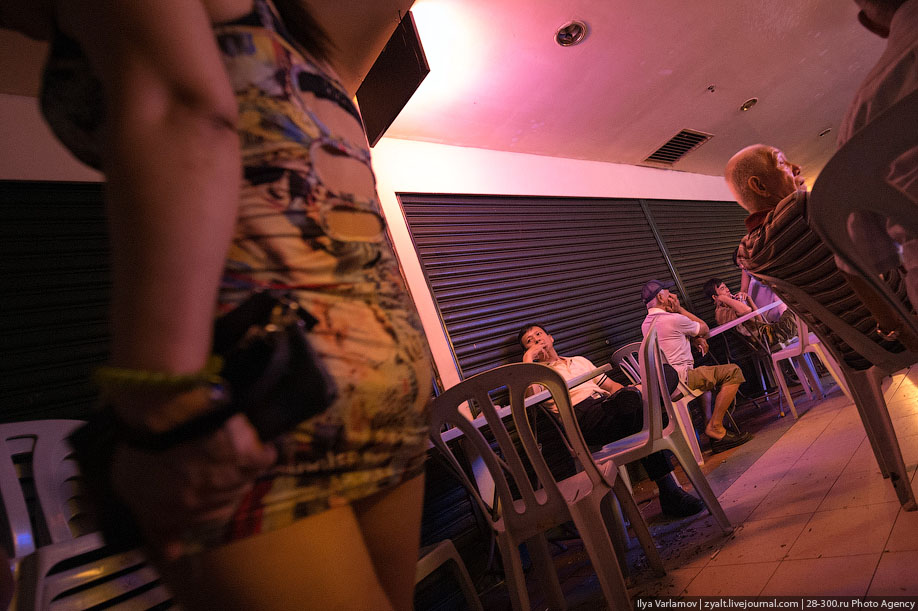 24.
Then an endless stream of women come and offer carnal pleasures.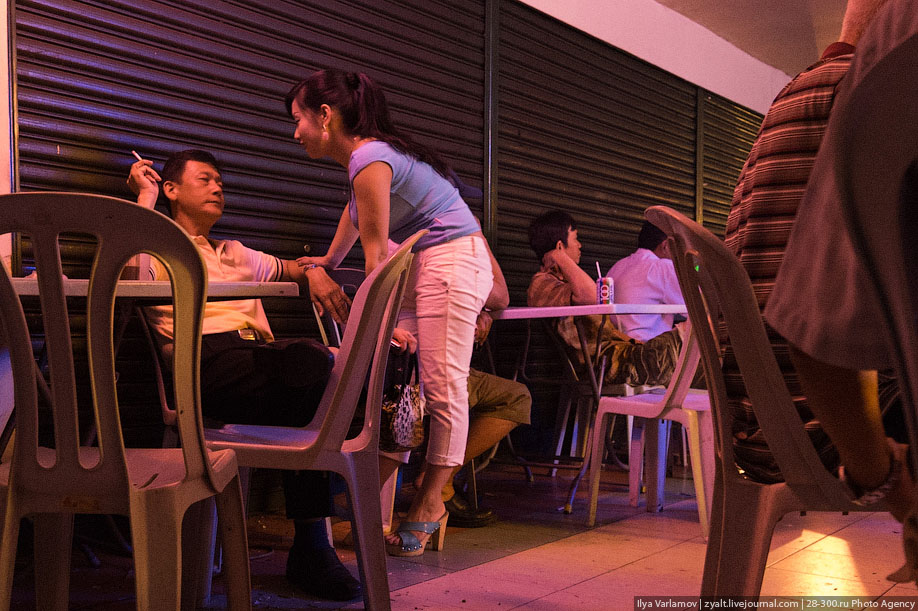 25.
Price of living women here start at 300 rubles per hour in the common room without air conditioning, and ending 1500 r.
for the beauty in a private room.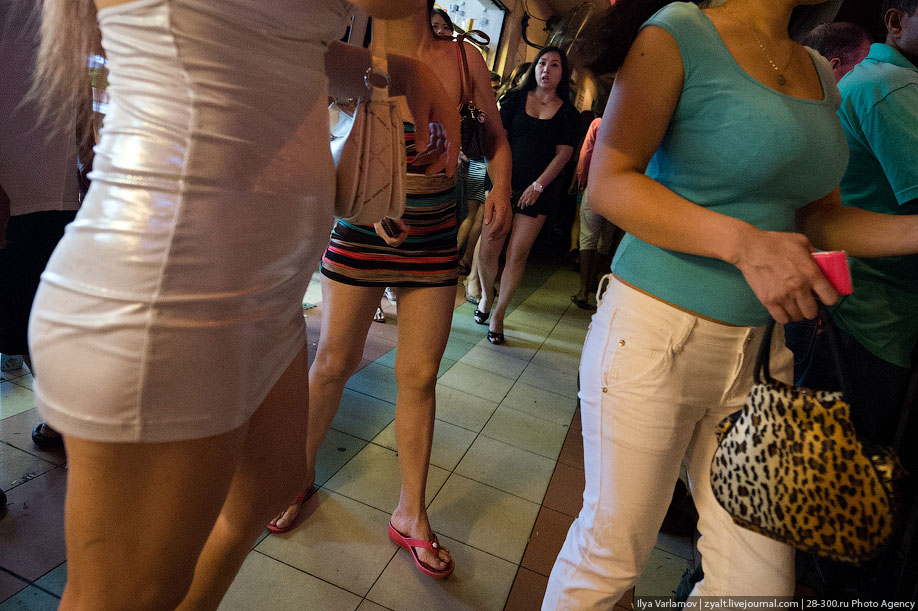 26.
All staring at the camera and need to remove it.
As a result, had to flee from the protection of flight.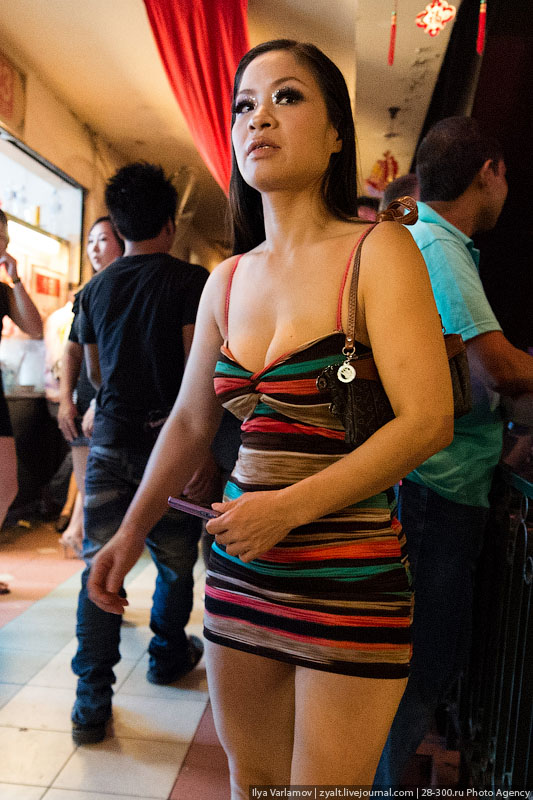 27.
On the ground floor is a large part to the elevator.
There are clients that have found their love to go to the rooms.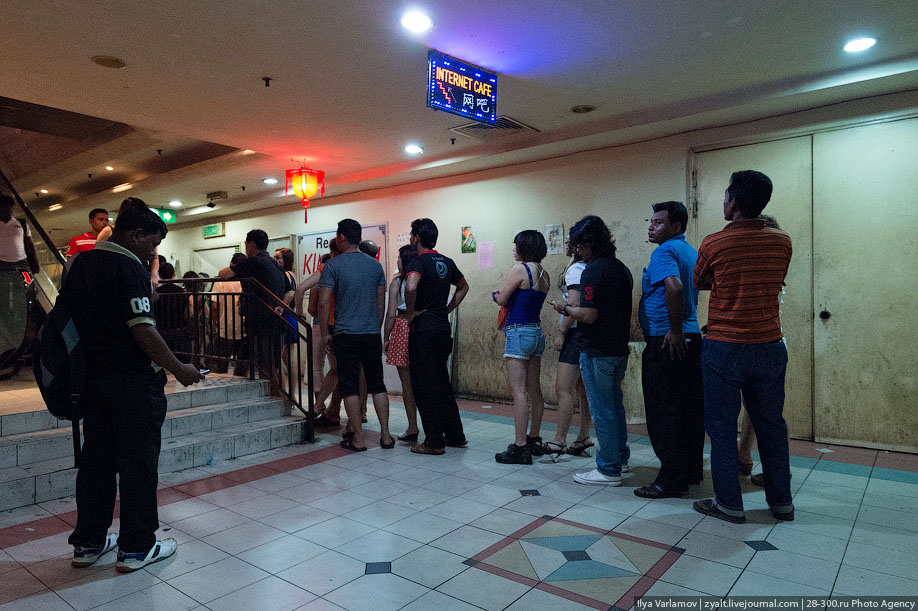 Also on the ground floor there is a lot of underground casinos and gaming rooms.
Officially, all that is forbidden in Malaysia.
Keep a stash of it Chinese.
Customers are also Chinese.
Malay Muslims mostly respectable and well behaved.
Typically, these fall into the brothels of criminal chronicle.
Here's the story about this hangout:
28.
Near the market.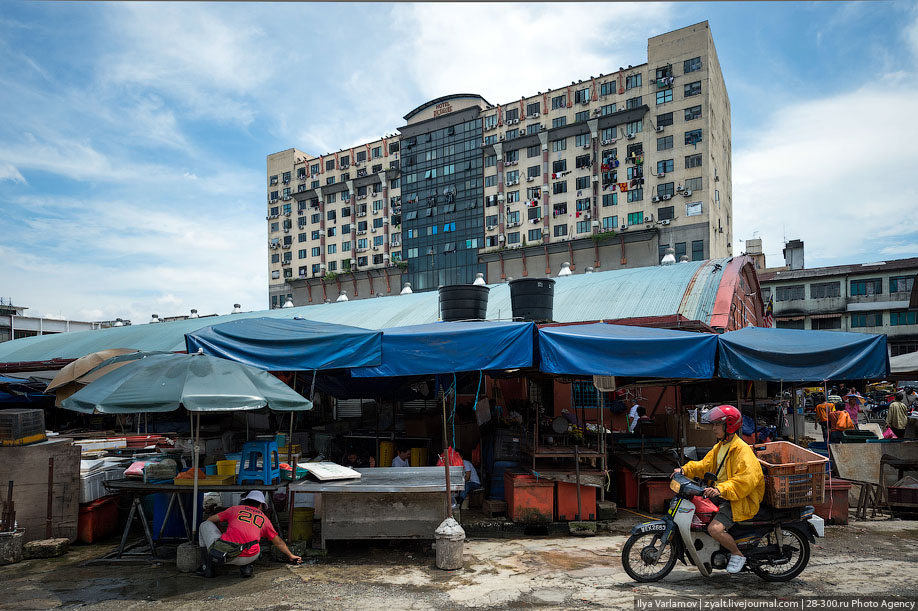 29.
Another market.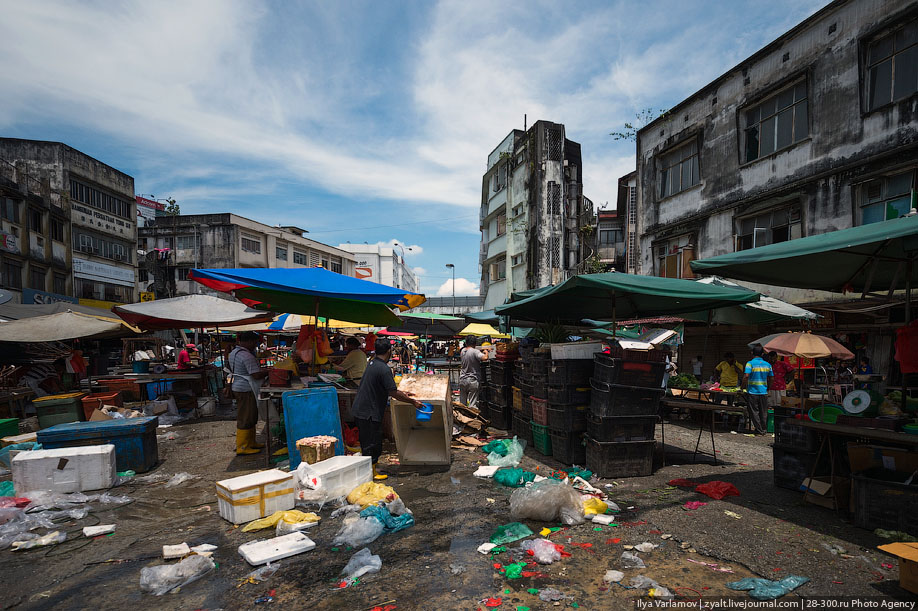 30.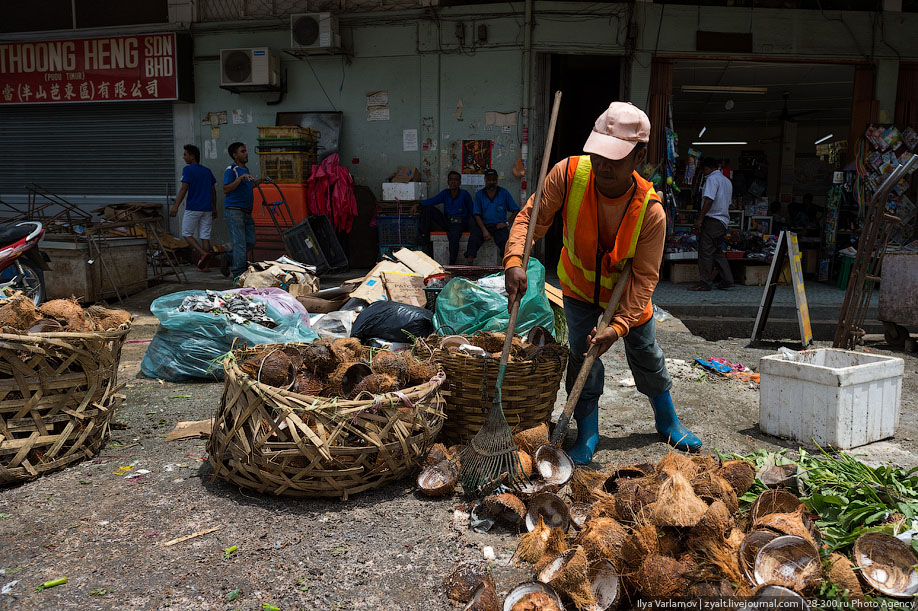 31.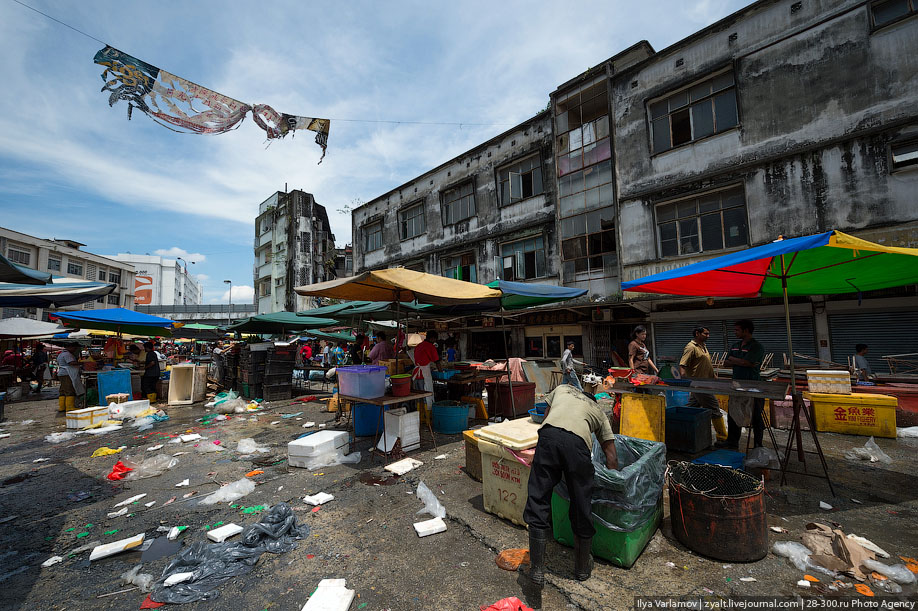 32.
Meat series under the roof.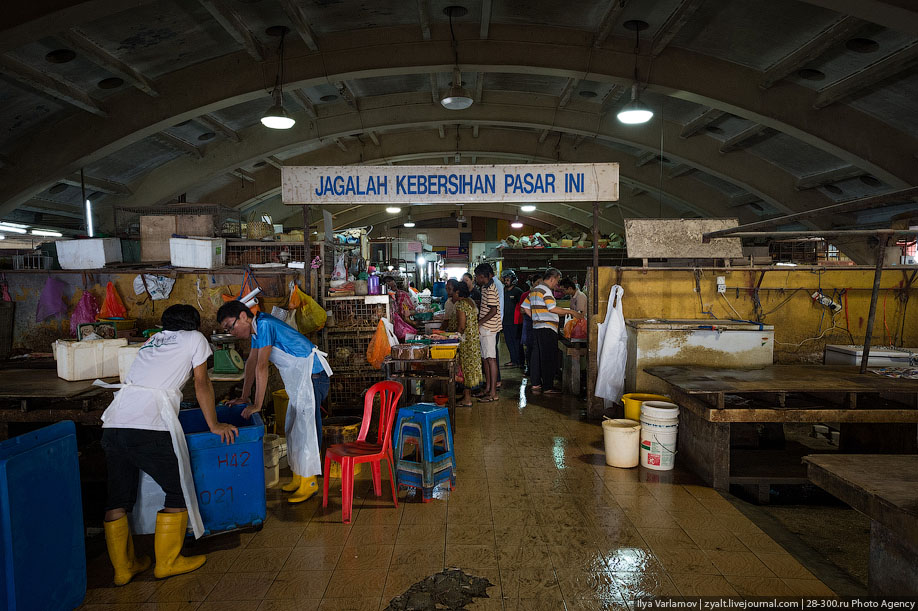 33.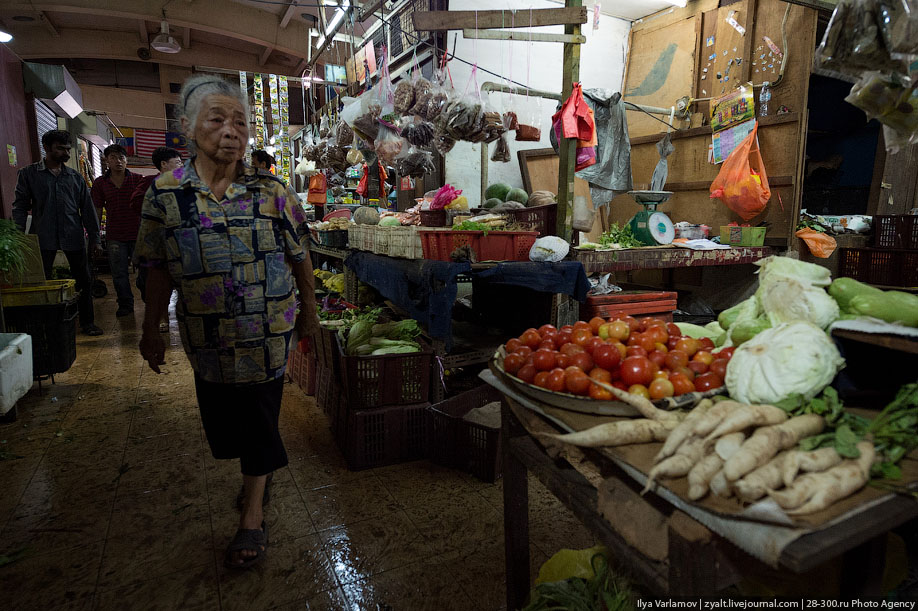 34.
Chickens.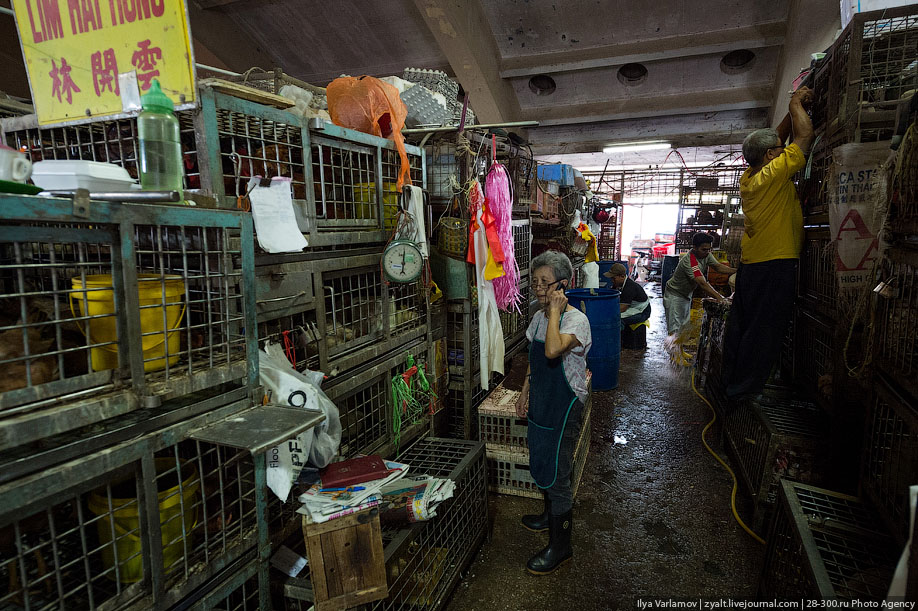 35.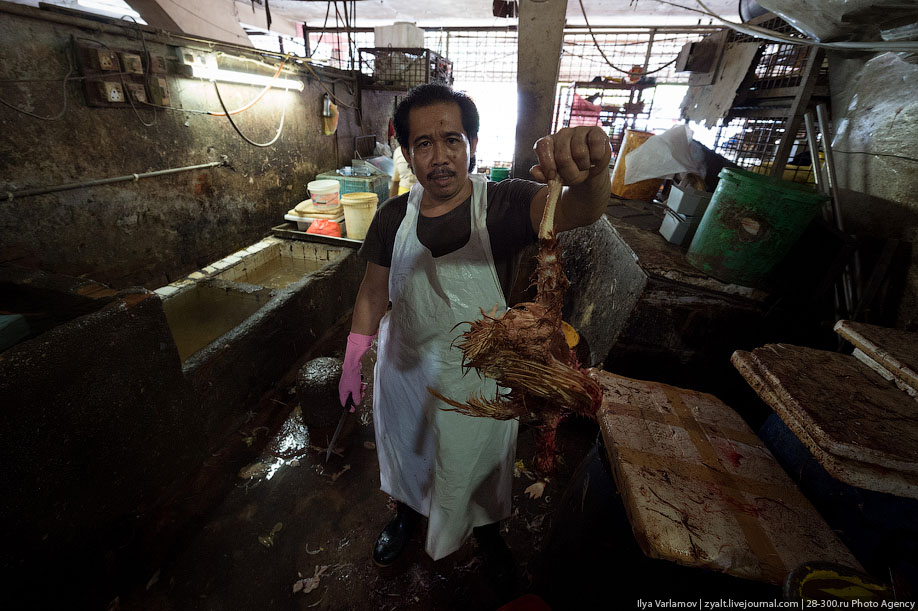 36.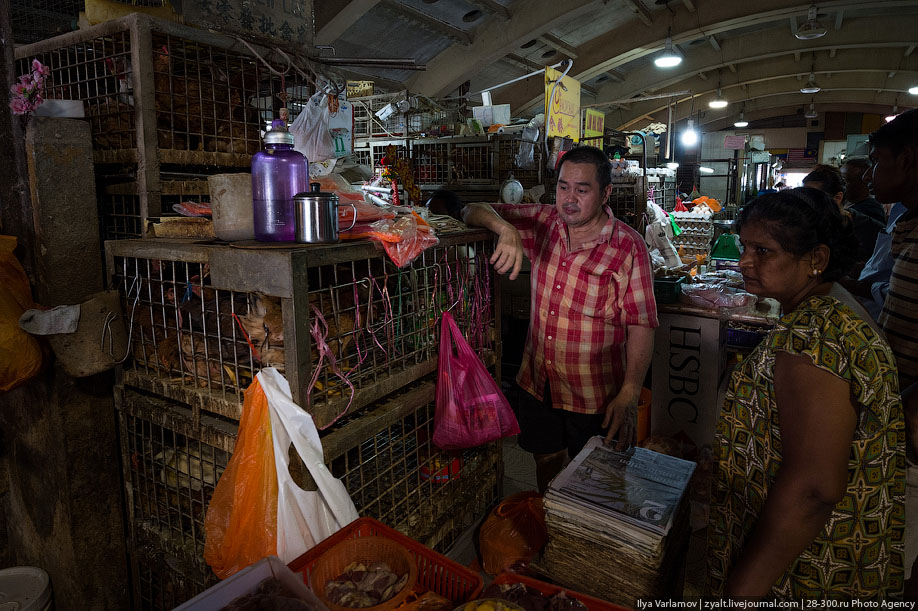 37.
Now look at how ordinary people live.
This is a house in which lived the middle class.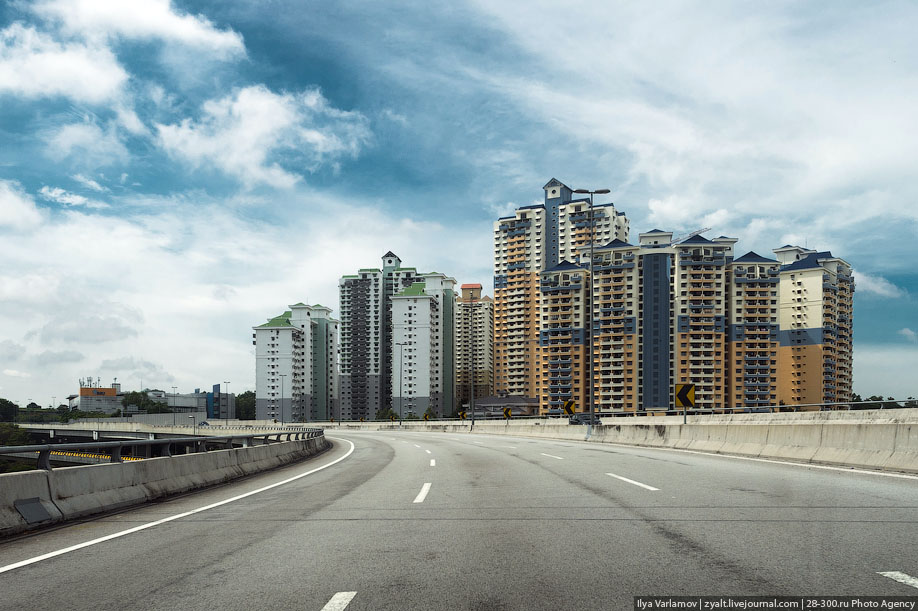 38.
As the provisions are no cars in the yard can not be.
The yard was cast into sports and children's playgrounds.
This is a place of recreation for residents, and not a warehouse of cars.
between the left and the central house of visible surface parking where residents park their cars.
This is the ideal organization of the court.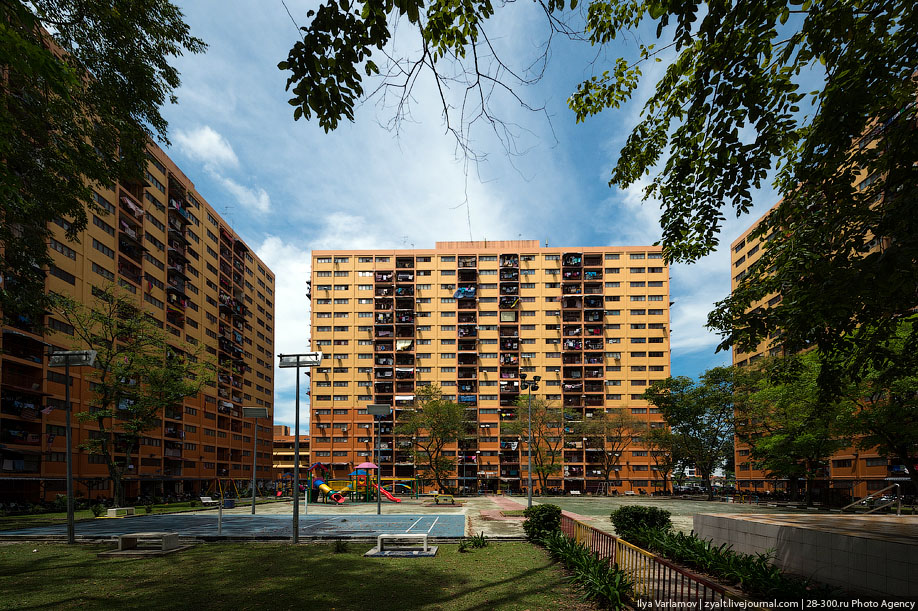 39.
Entrance.
Indians and Chinese are sometimes bred srach unthinkable.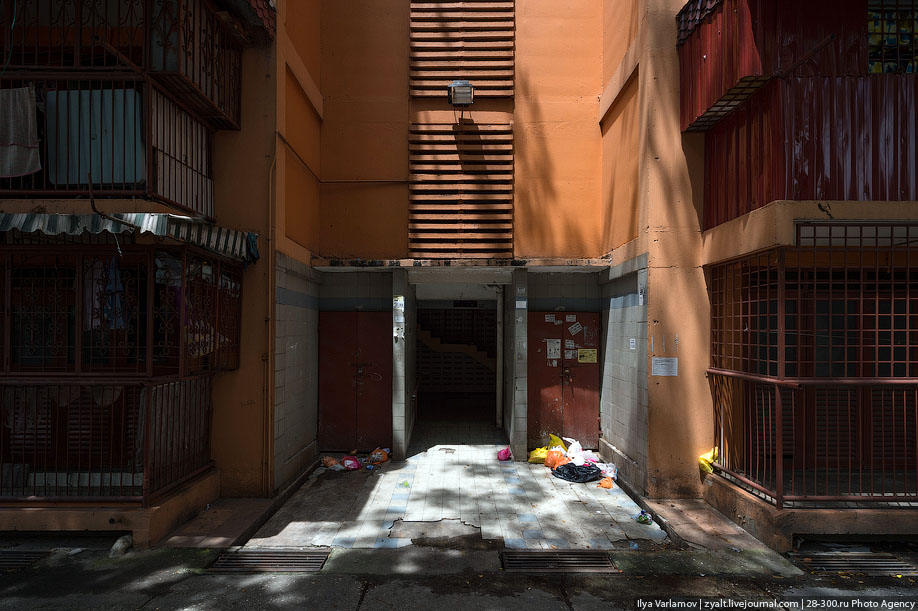 40.
The city can still find the old wooden houses on stilts.
But now they are actively being demolished.
Skyscrapers are coming.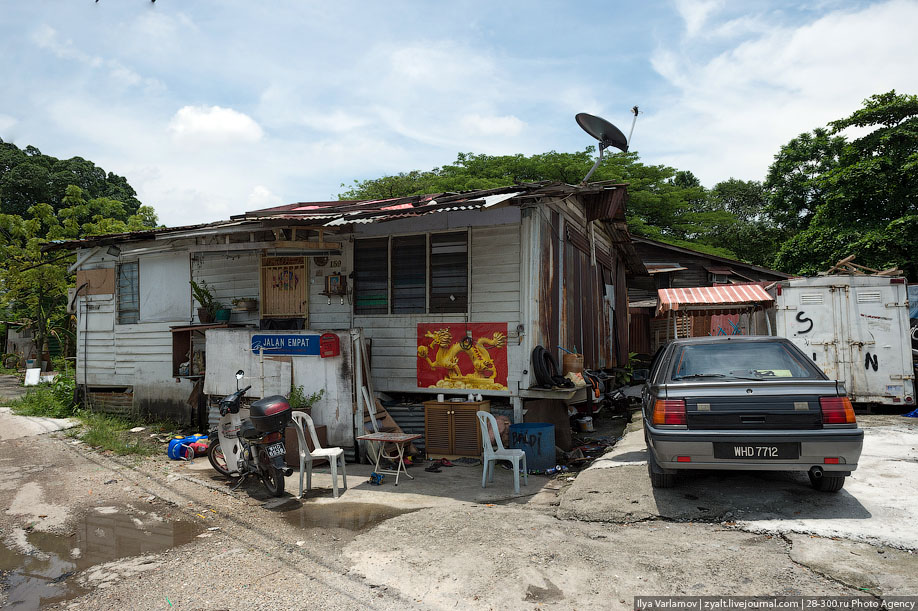 41.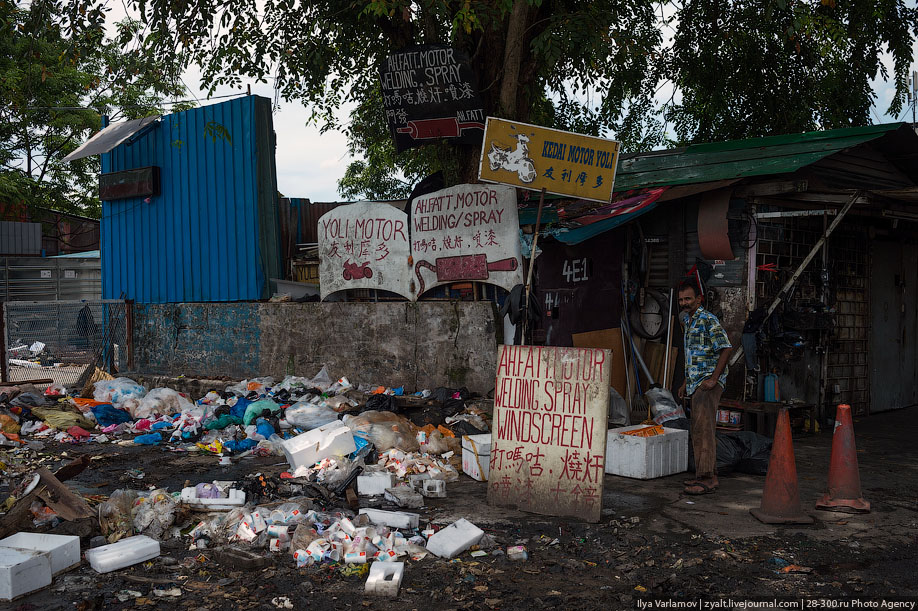 42.
A ride on the Monorail.
A strange and uncomfortable thing.
I'll write in more detail in a separate post about public transport in KL.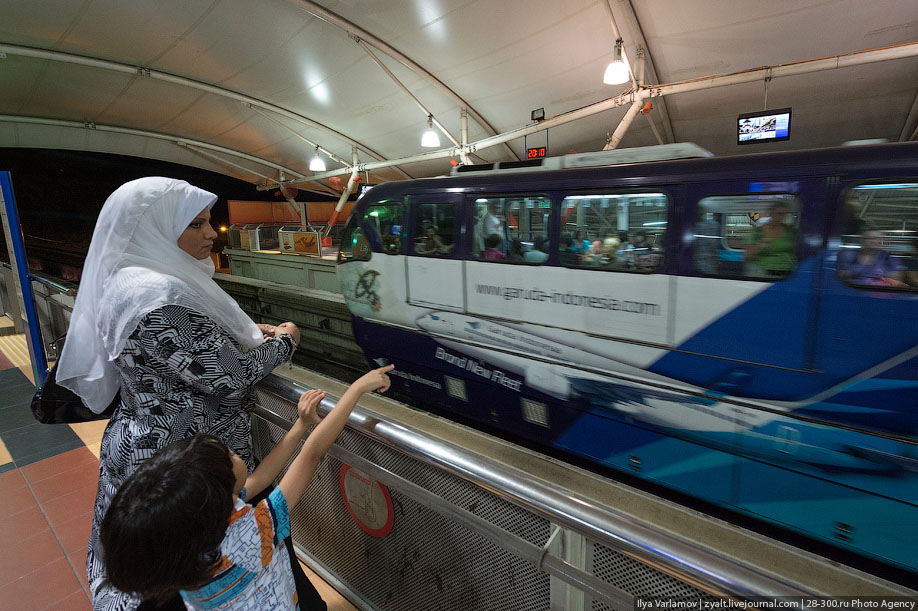 43.
Advertise gradually captures the city.
Each support monorail closed banners.
Each station has its own sponsor.
But useful to remember: "You sit down on KFC and go to the DHL".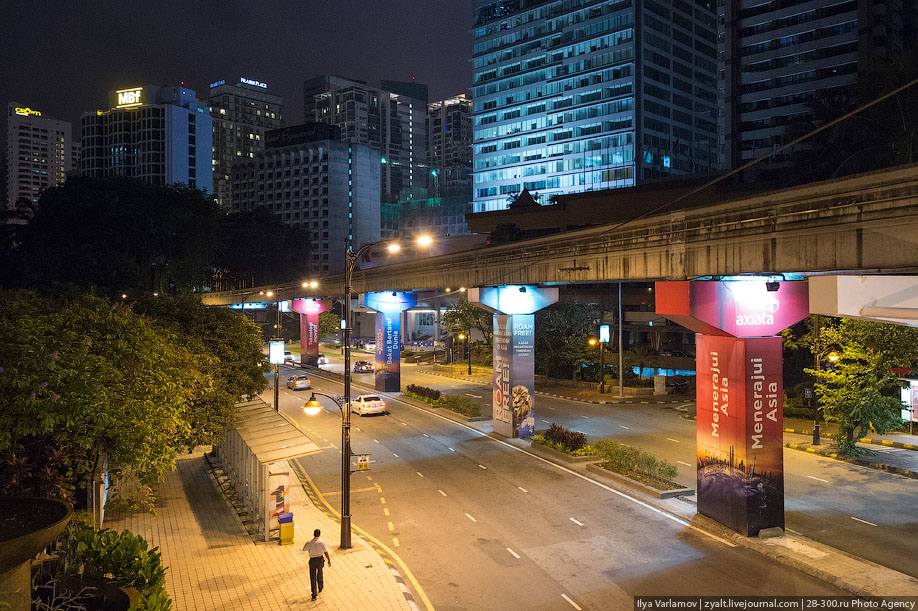 44.
As you probably know, yesterday there was an earthquake in Indonesia.
Due to the threat of a tsunami at all panic.
Yielding to herd behavior in the evening I climbed to the TV tower in order to secure watch as huge waves wash away the city.
But nothing happened.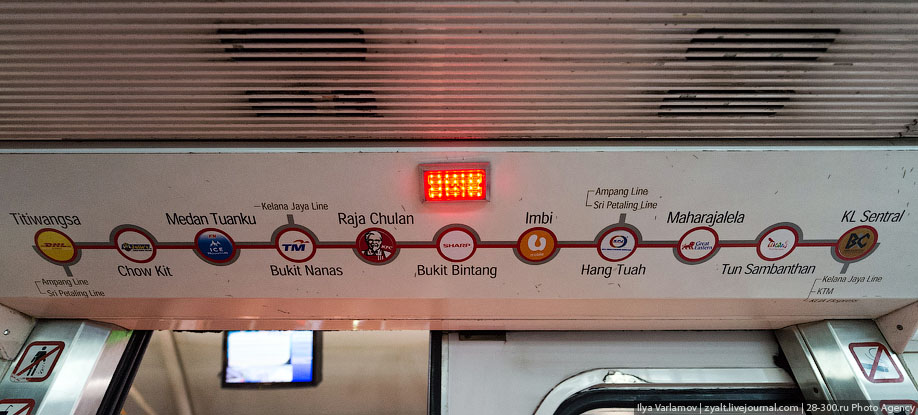 Thank you very much
Alexei Lebedev for his help on the site ;).
Without him I would not have seen.